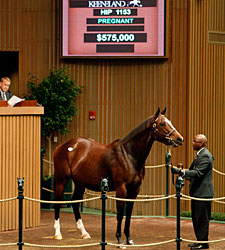 Buying horses at public auction is not an easy process. Bloodstock agents tend to follow each other around buying what is "hot". Prices are driven up, and horses are sometimes bought for 2 and 3 times their worth.
We prefer a different approach. We buy the best athletes we can find, and ignore overpriced individuals. We also may buy quality bred horses which others ignore due to mild conformation flaws. In short, we buy the best animal within our clients budget. The results speak for themselves. We have picked stakes winners for under $10,000. Private purchases are also something we have had success with as well. We have even purchased stakes winners for as little as $5,000.
So how do we find these types? Simple, we look at many horses to find the right one. And we will pass if nothing fits our requirements. That is an important distinction. Agents get paid only when they buy you a horse. Most of the time, they will fill that order and receive their commissions. We feel it is better to go home without a horse rather than saddling clients with a bad investment.
Commissions: We don't believe in the traditional commission charges, especially when the client has selected a horse and just needs someone to inspect the horse and sign the ticket. For this reason, many times we can save you 50% on certain purchases.
Now planning for the 2020 sales. Contact us for assistance.